Vorige week kreeg ik een pakje in de bus... huh ??? Wat zou het zijn? Geen idee...
Toen ik het opendeed viel mijn kwartje/frank/.... Het was het kadootje of hoe moet ik het anders noemen van "
Made by KK
" voor CIF = Craft it Forward.
Een tijdje geleden reageerde ik op de oproep, voor wie wilde meedoen aan het project. Hoe werkt het?
Simpel, als je reageert (de eerste 3, die willen meedoen natuurlijk) dan stuur ik je een zelfgemaakt cadeautje, maar dan moet je ook beloven om dit projectje verder te zetten.
En mijn jongste was heel gelukkig met zijn onderhemdje!
Last week I got a little package in the mail... I didn't expect anything, what could it be? I had no idea...
When I opened it, I remembered. It was the "gift" (don't, know how I should call it) from "Made by KK" for CIF = Craft it Forward.
A while ago I answered her blogpost and entered the project. How does it work?
Simple, if you leave a message (the first 3 people, who want to enter of course), I will send you a handmade present, but you have to promiss to "play the game"
En lang geleden won ik bij
Swiid-Swiet
haar give-away. Een superleuk gepersonaliseerd hartje.
Nog eens DANKJEWEL! (en het bloggen hierover duurde even, omdat de foto's op het "ander" fototoestel stonden)
Long time ago I won Swiid-Swiet's give-away. A beautiful, personalised heart.
A big THANK YOU (sorry for blogging late, but the photos were on the "other" camera)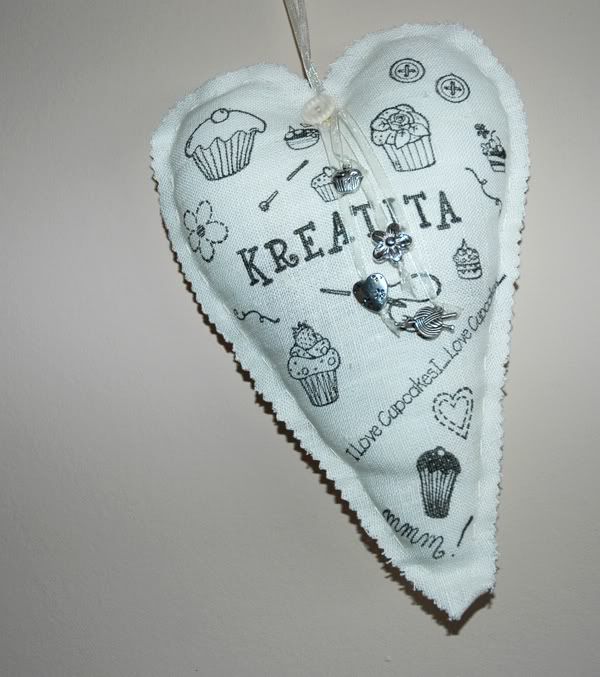 PS... En ... binnenkort volgt een give-away voor Facebook volgers, blijf volgen :)
For people who "like" my Facebook page, there will be a give-away soon!