Gisteren was er op de school van onze kindjes al een carnavalfeestje.
2 weken geleden (lekker op tijd hé) vroeg ik hoe ze verkleed wilden gaan. 2 dagen later was het beslist.
Jense wilde gaan als politie-agent
Ilian als Ben 10
en Jarno als piraat.
Yesterday there was a dress-up/carnaval party at the school of our kids.
2 weekds ago (well in time, don't you think) I asked what they wanted to be. Two days later, they had their answer.
Jense wanted to go as a police-officer
Ilian wanted to be Ben 10
and Jarno wanted to be a pirate
Lekker op tijd, ben ik ... donderdag begonnen. Gelukkig had ik een beetje UWYH (Use what you have) in gedachten.
I started on thursday. I luckily had the idea to UWYH in mind
Ben 10 leek me het makkelijkst, dus daarmee begonnen. Ben 10 draagt een groene broek, dus even zoeken, want ik wist dat ik zo'n broek een tijdje geleden bij de kledij "te klein" had gelegd. Dan nog het truitje, wit met zwart t-shirtje. Een wit t-shirtje lag er in (bijna)nieuw in de kast, en in mijn kast had ik nog een zwart truitje liggen, dat ik gerust wilde verknippen. Donderdag ben ik aan de slag gegaan met knippen, maar het uiteindelijk beginnen was eigenlijk pas zaterdag. Dat raakte tamelijk vlug af.
Ben 10 seemed the easiest, so I started with it. Ben 10 has green trousers, so I searched a little, because I know I had something like it in the "too small" clothes-box. And the t-shirt is white with black. I had a (nearly new) white shirt in the closet and in my closet I had a black shirt I wanted to cut in. Thursday I started the cutting, but it was saturday when I started sewing. Luckily it didn't take lots of work.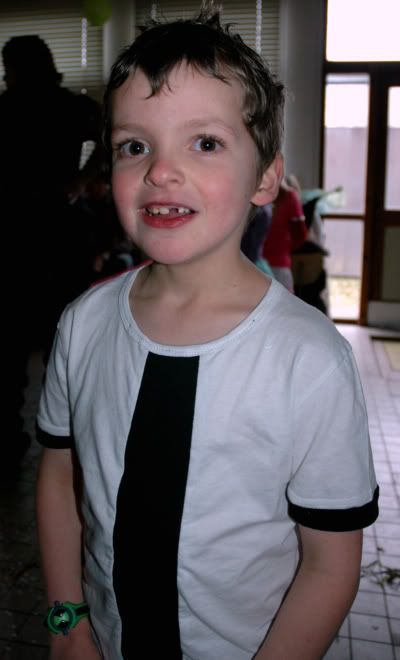 Voor Jense had ik ook wel al een idee, een wit hemdje (ook bijna-nieuw, Ilian had het 1x aangehad, en toen was het in de doos te klein beland, dus voor Jense nog een beetje aan de grote kant). Gelukkig heb ik ook een beetje flock-folie in huis, maar... nog nooit gebruikt. Eerst de gebruiksaanwijzing goed doorgelezen en dan aan de slag gegaan. Gelukkig... oef... dat lukte :). Vlug een broekje gemaakt uit een oude broek die ik had gekregen van mijn ma. Ook op tijd afgeraakt. (op de foto had hij net geweend omdat hij toch geen politie wilde zijn... en dan daarna weer wel :) )
For Jense I had the idea to take a white shirt (nearly new, it was Ilians, but he only wore it once, then it was too small, for Jense, a little too big). Luckily I had flock foil (don't know if it's the right translation). I never used it, so I read a few times how I had to do it, and ... yes... it turned out great! I made an easy pair of trousers out of old ones from my mom. (on the picture he just cried, because last minute he didn't want to be a police-officer after all, and 5 minutes later he wanted to be it again)
Dan de piraten-outfit... In mijn kleren van "lang geleden" had ik nog een lange short liggen, met een beetje aanpassing, kon die doorgaan als piratenbroek. Een hemdje, doorgekregen van een neefje, lag ook in de kast, de kol ervan, mouwen opstroppen, af. Dan nog een vestje voor erboven. Principe gebruikt van de zsazsazilet, buitenkant zwart, voor de piraat, binnenkant wit/zwart gevlekt, voor als ze zich thuis nog willen verkleden als cowboy :). En ja hoor, 's avonds lagen alle outfits klaar.
Then my pirate. In my clothes from "long time ago" I had a short, with a little alteration, that could be a pirate-trousers. A shirt, he once got from a nephew, but didn't like, was is the closet. Then a "vest" (the black thing) is based on the zsazsazilet (google if you don't know what it is). I made it black on the outside (for the pirate) and white/black cowish, for dress-ups at home, so it's reversible). In the evening all the outfits were ready.